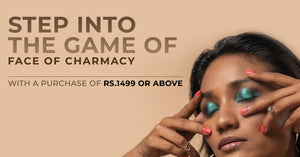 What are the terms of the Return Policy?
To maintain strict hygiene standards of our products, we do not accept returns  across any categories currently. Charmacy Milano may, at its discretion and without prior notice, change the products or categories to which this policy would apply
What are the terms of the Replacement Policy?
Our shipments go through rigorous quality check processes before they leave our warehouse. However in the rare case that your product is damaged during shipment or transit, you can request for a replacement
If you have received an item in a damaged/defective condition or have been sent a wrong product, you can follow a few simple steps to initiate your return within 5 days of receiving the order:
Step 1: Contact our Customer Support team via email (support@charmacy-india.com) within 5 business days of receiving the order.
Step 2: Provide us with your order ID details and your request to replace the defective/wrong items in your order. Kindly share an image of the product and the invoice for our reference.
Step 3: We will pick up the products within 5-7 business days. We will initiate the replacement process only if the products are received by us in their original packaging with their seals, labels and barcodes intact.
Note: If it is a case of replacement, it is subject to the availability of stock. In case that a replacement may not be available, we will refund you the full amount.
 
Can I replace part of my order?
Yes. A replacement can be created at item level and if you have ordered multiple items, you can initiate a replacement for any individual item. However, any product being returned needs to be returned in full including all components as well as any complimentary gifts or products which came along with it
 
Which are the items that cannot be replaced?
Returns will not be accepted under the following conditions:
Product is damaged due to misuse/trail
Product is used or altered
Returned without original packaging including, price tags, labels, original packing, freebies and other accessories or if original packaging is damaged
Serial Number is tampered with
If the request is initiated after 5 business days of order delivery